Account Settings
The accounts settings will allow you to manage all aspects of your Fluid UI account.
It is divided into four sections:
Personal details
Teammates
Account type
Receipts and billing
Personal details
In this section you can do the following:
Set your name
Change your email/ password
Delete your account
You can also upload an avatar or change an existing one.
Teammates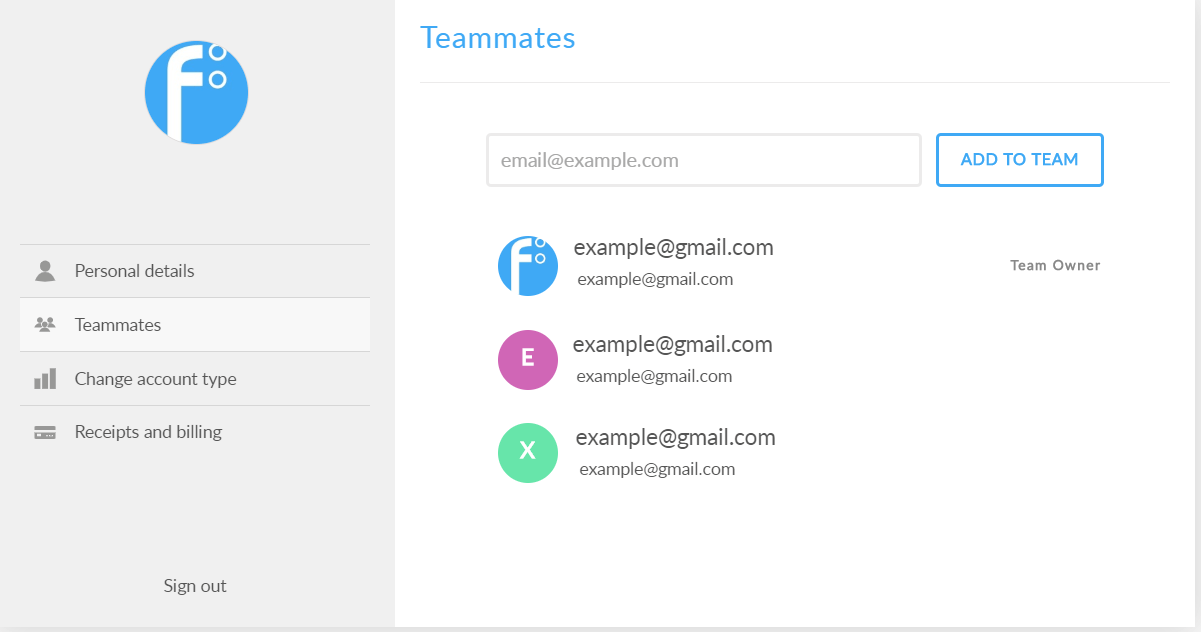 In this section you can add/ remove teammates and managed all aspects of your team. (Only available with team account)
Receipts and billing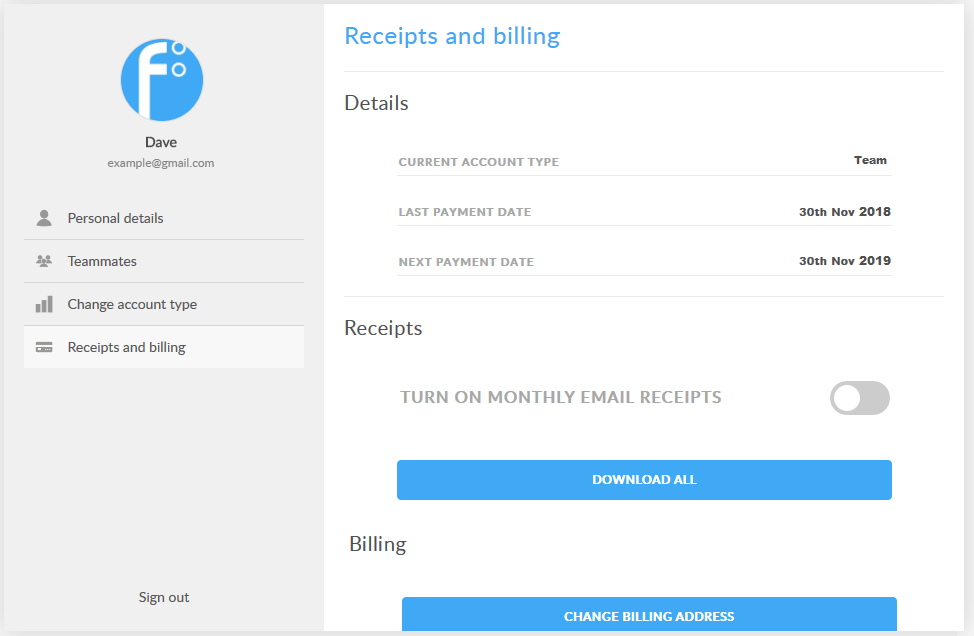 In this section you can manage your receipts and billing. Here you can:
See at a glance what your current account status is
Also see when you next payment is due
Cancel billing
Download all receipts for your account
Change your billing address and card details
Note: If you cancel billing all future billing will be cancelled but you will retain access to the premium features for the remainder of the current billing period.
Upgrading
There are 4 account types. When you upgrade you can choose to pay per month or annually.
Free Forever
Choose Free Forever if you need to prototype a quick idea for a project and share it with others or if you are just learning how to design. With Free forever you have:
1 project, max 10 pages
1 user license (you)
Unlimited reviewers
Solo
Choose Solo if you are exploring an idea for a future product. Solo includes all libraries, unlimited uploads, reviewing and on device testing with the player app. With Solo you have:
5 active projects
1 user license (you)
Unlimited reviewers
Pro
Choose Pro if you regularly make prototypes for sharing. Pro lets you export and print your projects, plus reviewers have the option of adding comments. With Pro you have:
10 projects
1 user license (you)
Unlimited reviewers
Export, print and comment
Team
Choose Team if you want to collaborate on projects together in real time. Team gives unlimited access to every feature for your entire team with just a single licence.
Unlimited projects
5 users (including you)
Unlimited reviewers
Export, print and comment
Real time team collaboration
If you decide to upgrade to a different plan, for example from Solo to Pro please let us know via email or our in app chat so we can help arrange a refund for you.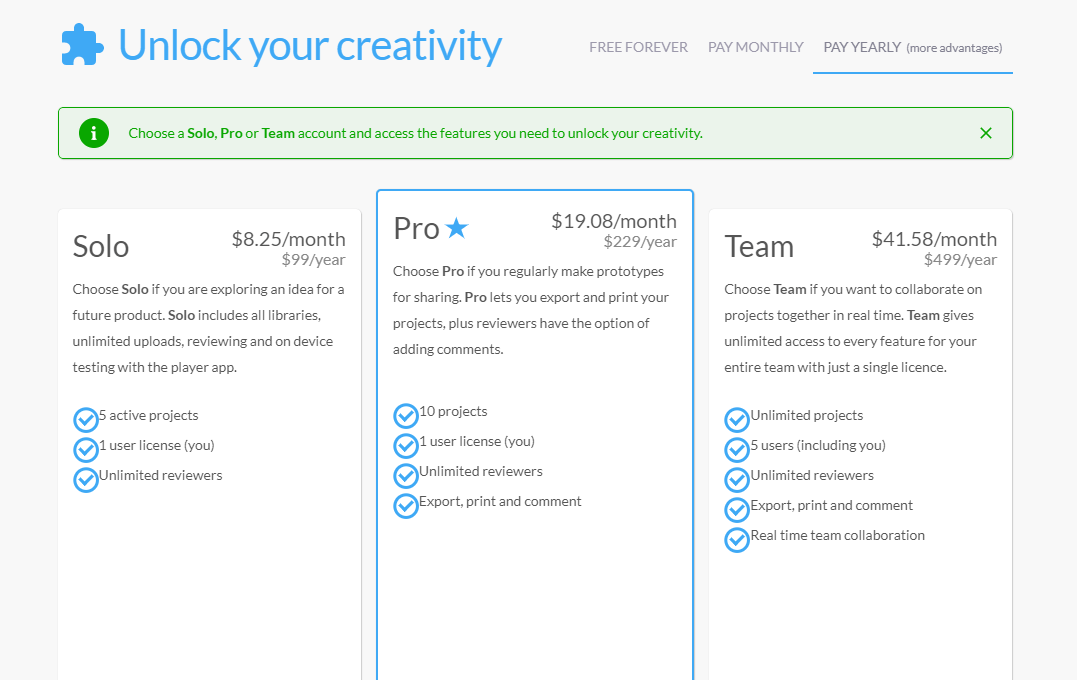 Receipts
You can download your receipts from the receipts section of the 'Account Settings' menu. If you need to have regular receipts sent to yourself or your accounts team, you can also set this up from there.
Payment details on your statement
The charge on your credit card statement will be from 'Fluid Software Ltd'.
Cancelling Billing
You'll find cancel billing in the account settings inside the main menu. Billing will stop as soon as you pause your account.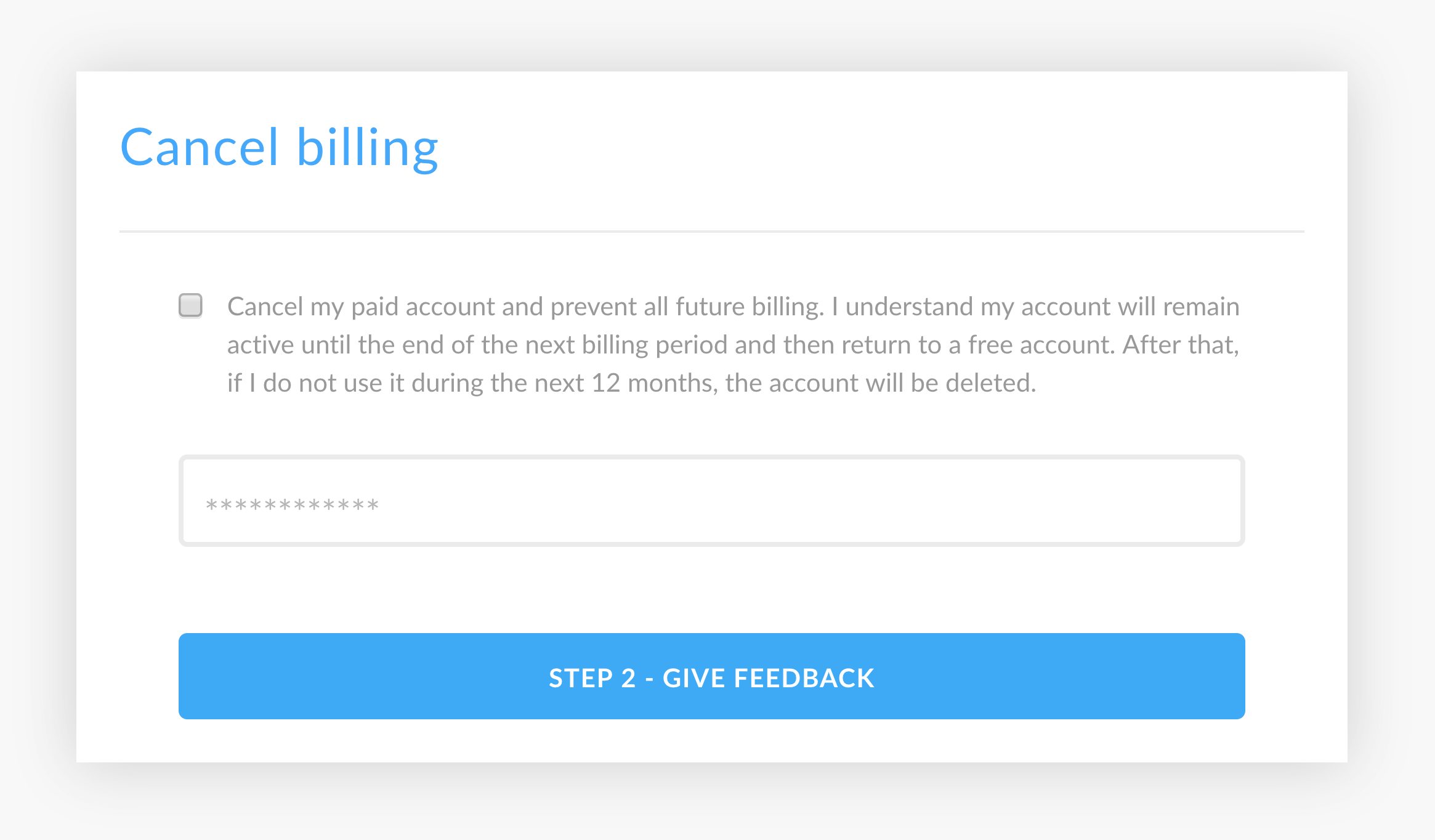 If you chose to downgrade your account to free then you will not lose any of your work but you will be restricted to the features that are available in the Fluid UI free plan.
You can upgrade again at any time to use the premium features once more.
If you don't plan on using Fluid UI in a given month, you can choose 'Cancel Billing' from the account settings menu.
We store your projects free of charge for up to a year. (We will send a warning email to sign back in after a year of inactivity before we delete any of your data).