Creating projects in Fluid UI
Your first project will be created and already open when you sign up.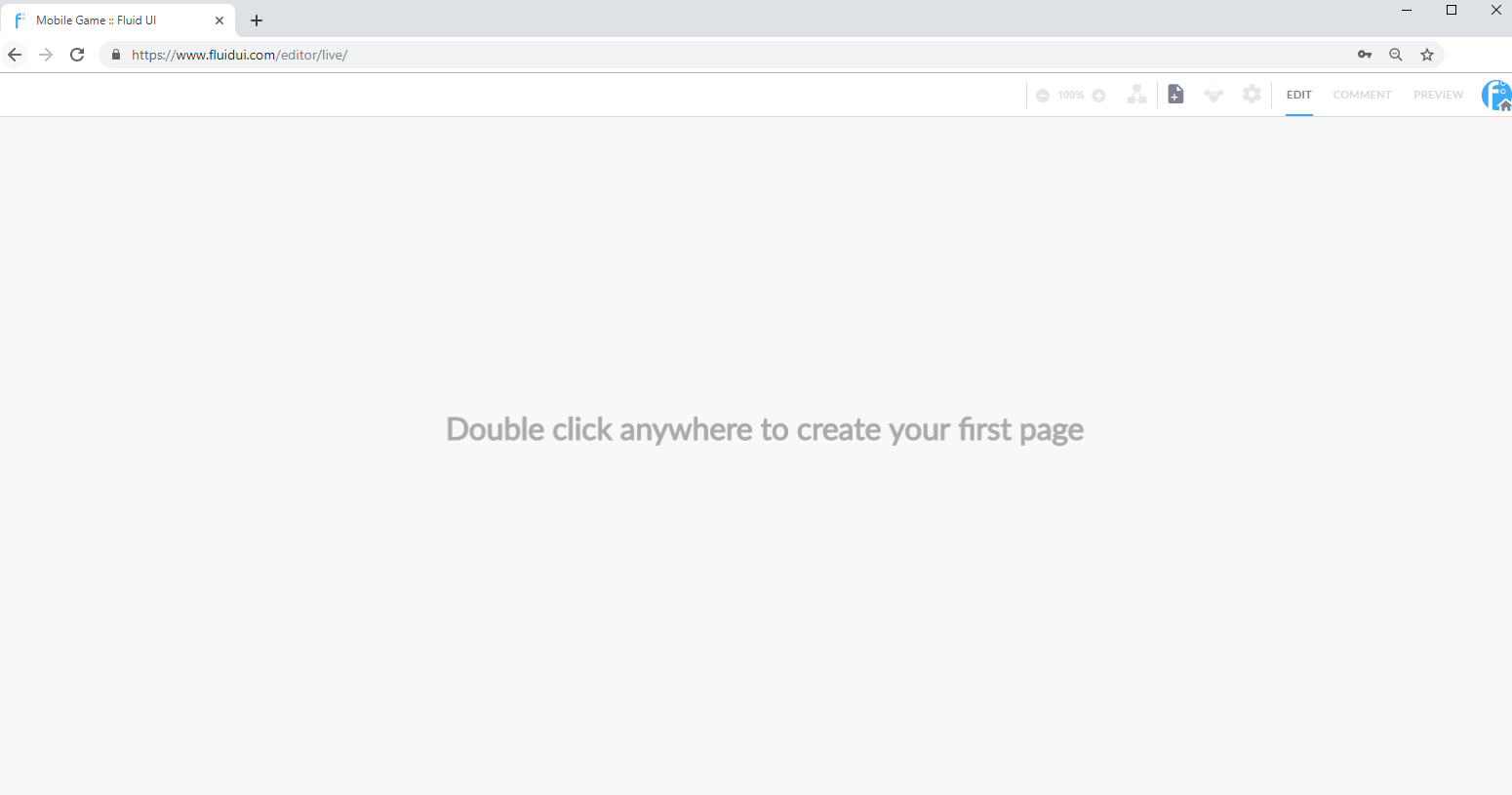 To create a second or further project:
Go to the home menu and select "New project".
Choose the device type and orientation for the project (if applicable).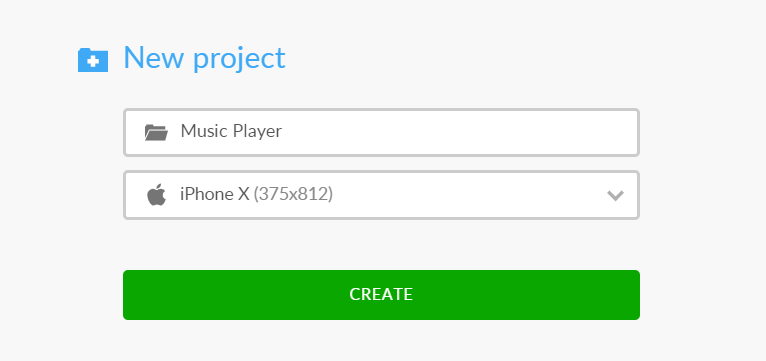 Saving projects
Fluid UI automatically saves your work both locally and online every few minutes as well as every time you click the preview button - there is no need to specifically save or manage projects.
The only way your data will be deleted is if you ask us to delete it. We store data for inactive accounts for up to a year. After a year of an account being inactive you will receive an email warning you that your account is going to be deleted. If the account is active it will not be deleted ever.
Changing project name
To change a project name,
Go to the project list and click on the name to highlight it. Type in a new name and press Enter.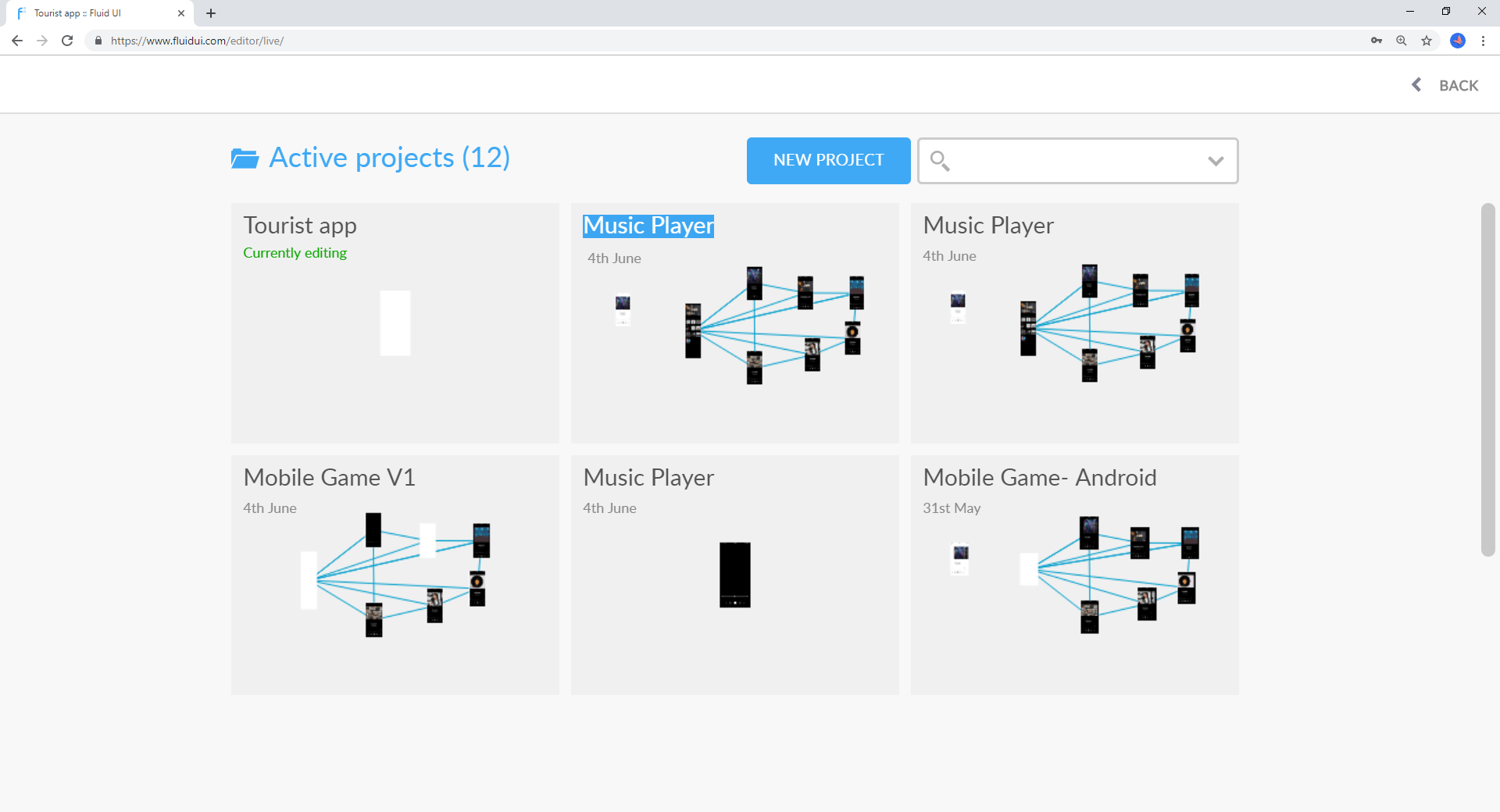 Copying projects in Fluid UI
Copy a project by:
Clicking on 'Make a copy' in Home Menu
Clicking on 'Clone' in the Projects menu
You can then change the name of the copied project. The original and copied projects are now in your active projects. The copy will automatically open and your original can be accessed by clicking 'My projects…' in Home menu.
Archiving projects in Fluid UI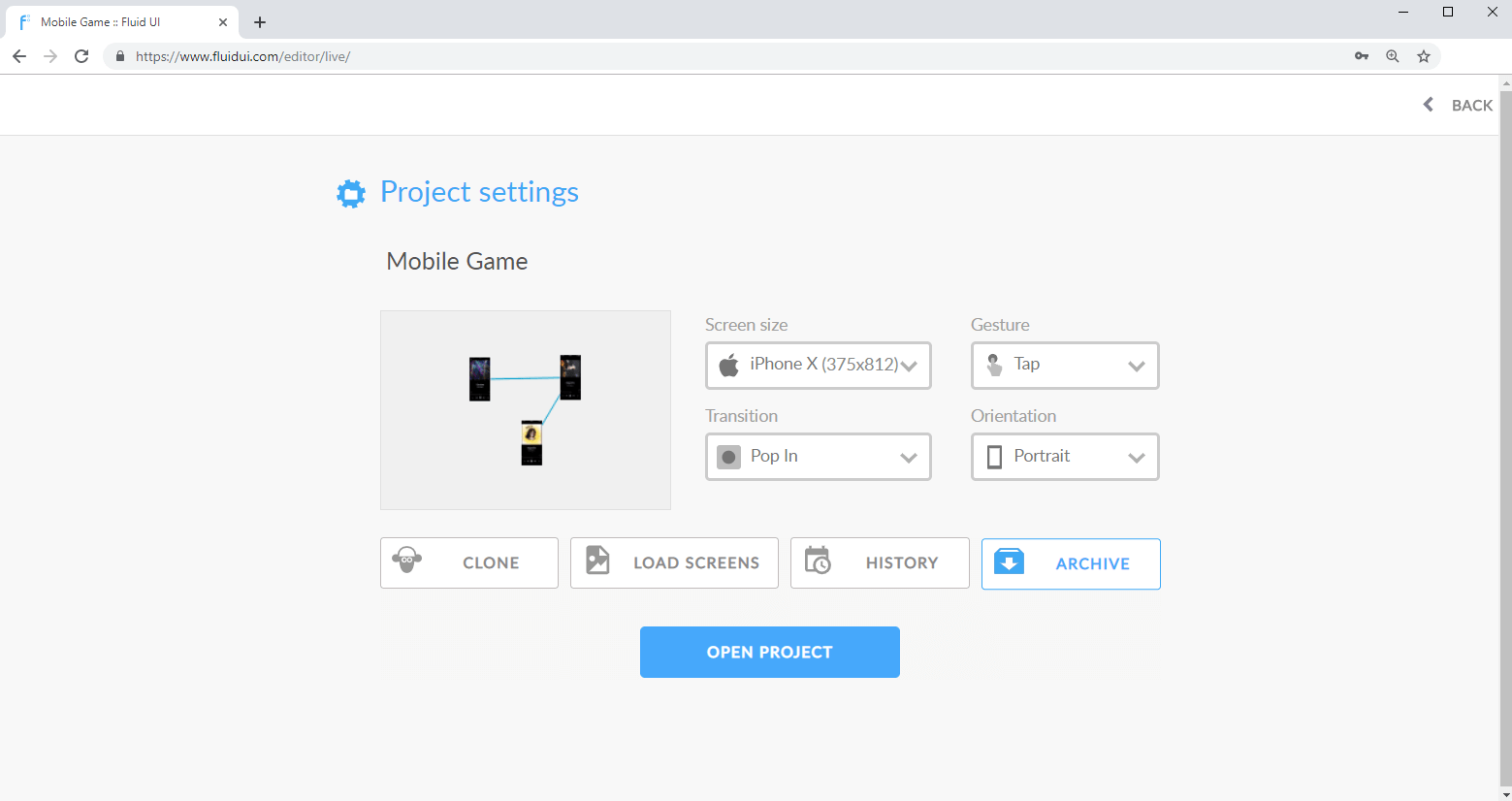 How to archive a project
You can archive a project by:
Clicking Archive Icon in 'Active Projects'
Clicking 'Archive' in Project Settings
Why archive projects?
Archive projects so you can start new ones if you don't have a pro account or if you've reached your project limit.
Keep your projects safe and make sure you don't delete them or overwrite them.
You can then manage your archived projects, delete or restore them in the future.
How to access archived projects
Go to Active projects and then use the filter in the search bar to find all of your archived projects.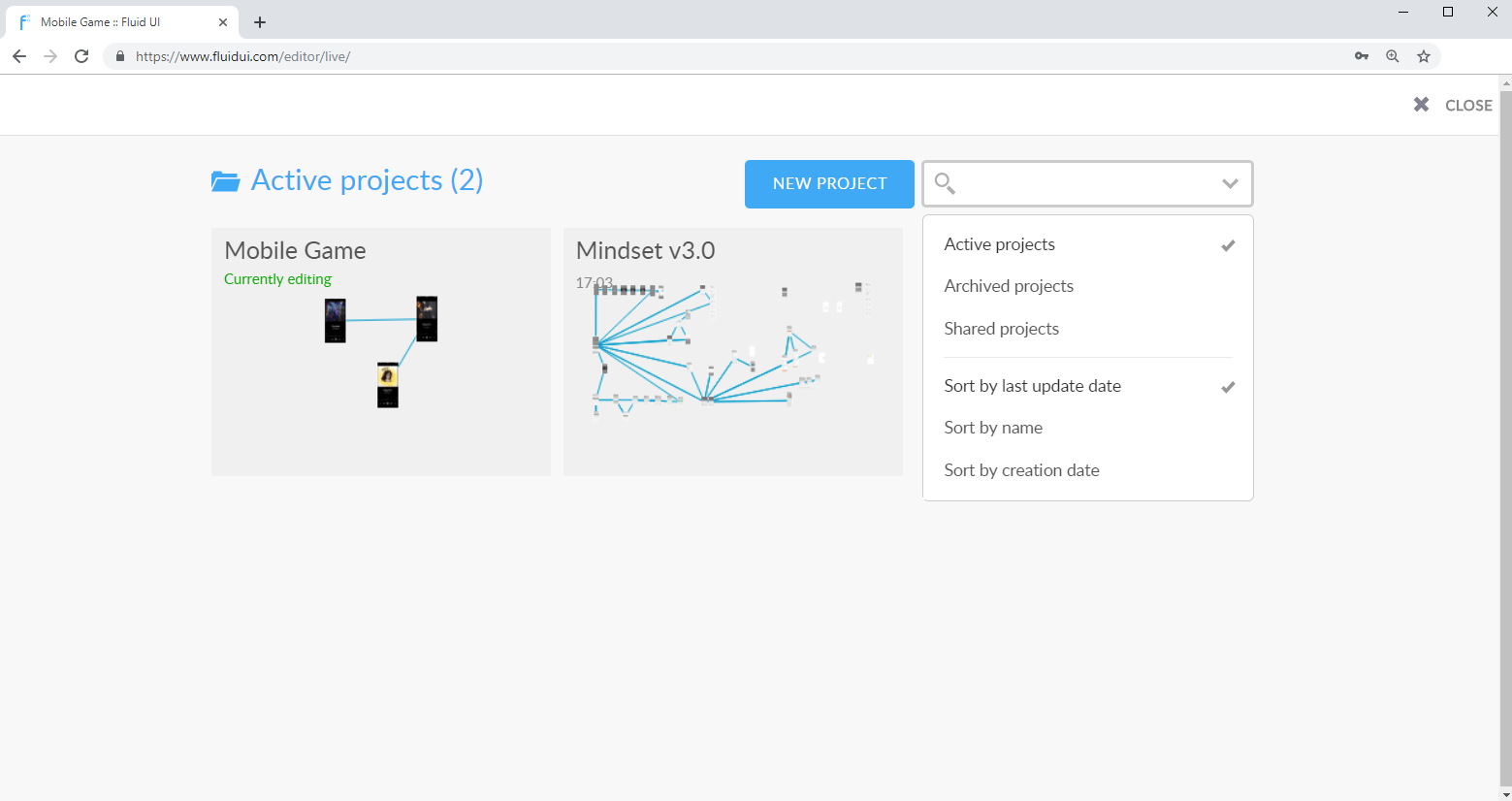 Deleting Projects in Fluid UI
A project needs to be archived before it can be deleted. Follow the steps above to archive the project. Go to 'Archived projects' and click the bin to delete the project permanently.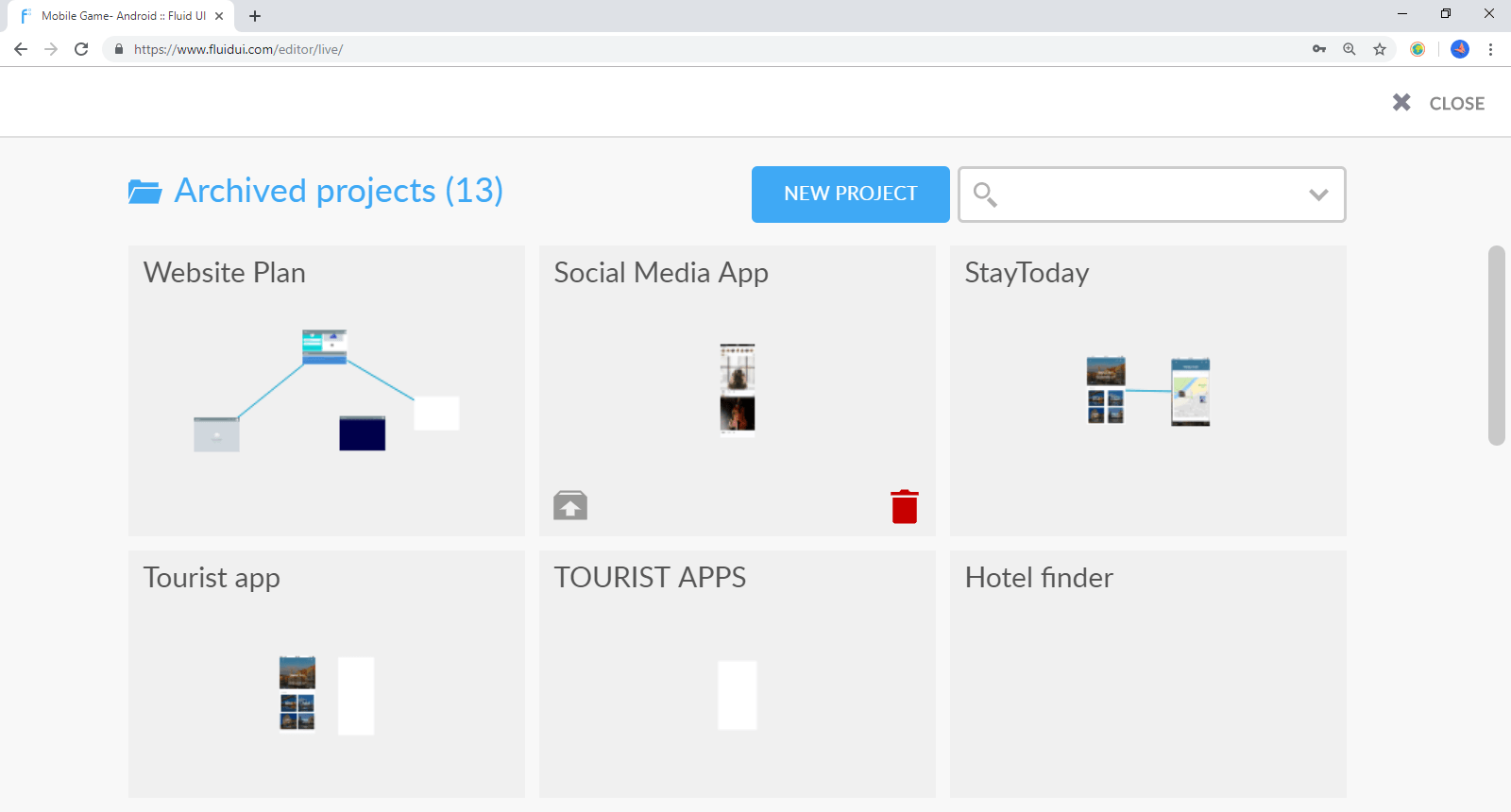 Restoring projects in Fluid UI
Any version of a project can be restored though the 'History' section of the project menu. Older versions are stored for up to 2 weeks for all premium accounts, and for a limited period for free accounts.
Archived projects can be restored by going to the archived projects folder and clicking the restore button on the left.
You can also clone a whole project to make a backup. Sharing this version with a client will allow you to take feedback while continuing to work on the existing project.
Click on the home icon to access project options and settings.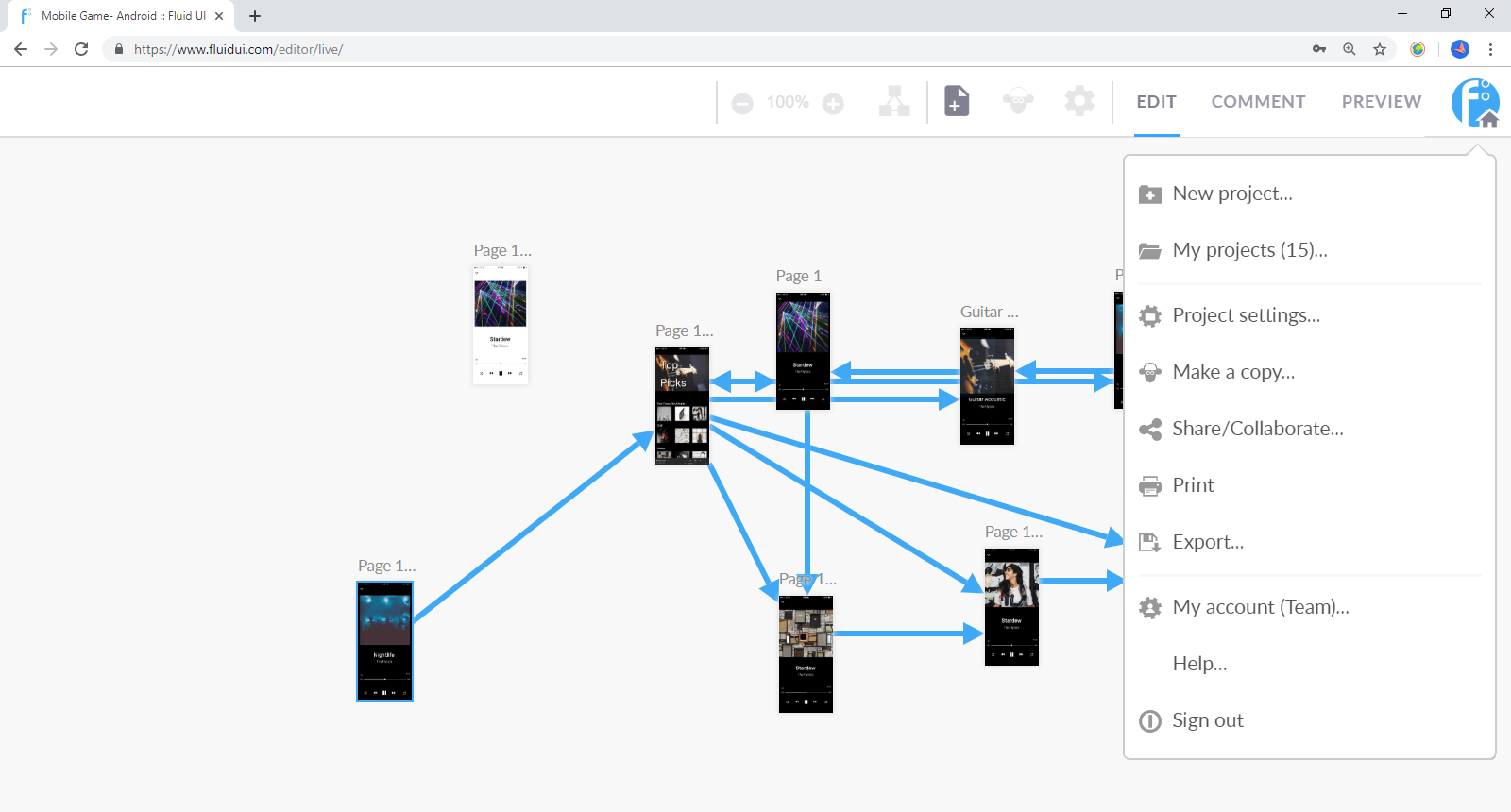 From here you can:
Create new projects
Open and manage existing ones
Copy or clone projects
Manage your project's settings
Share your project
Print and export your project
Project settings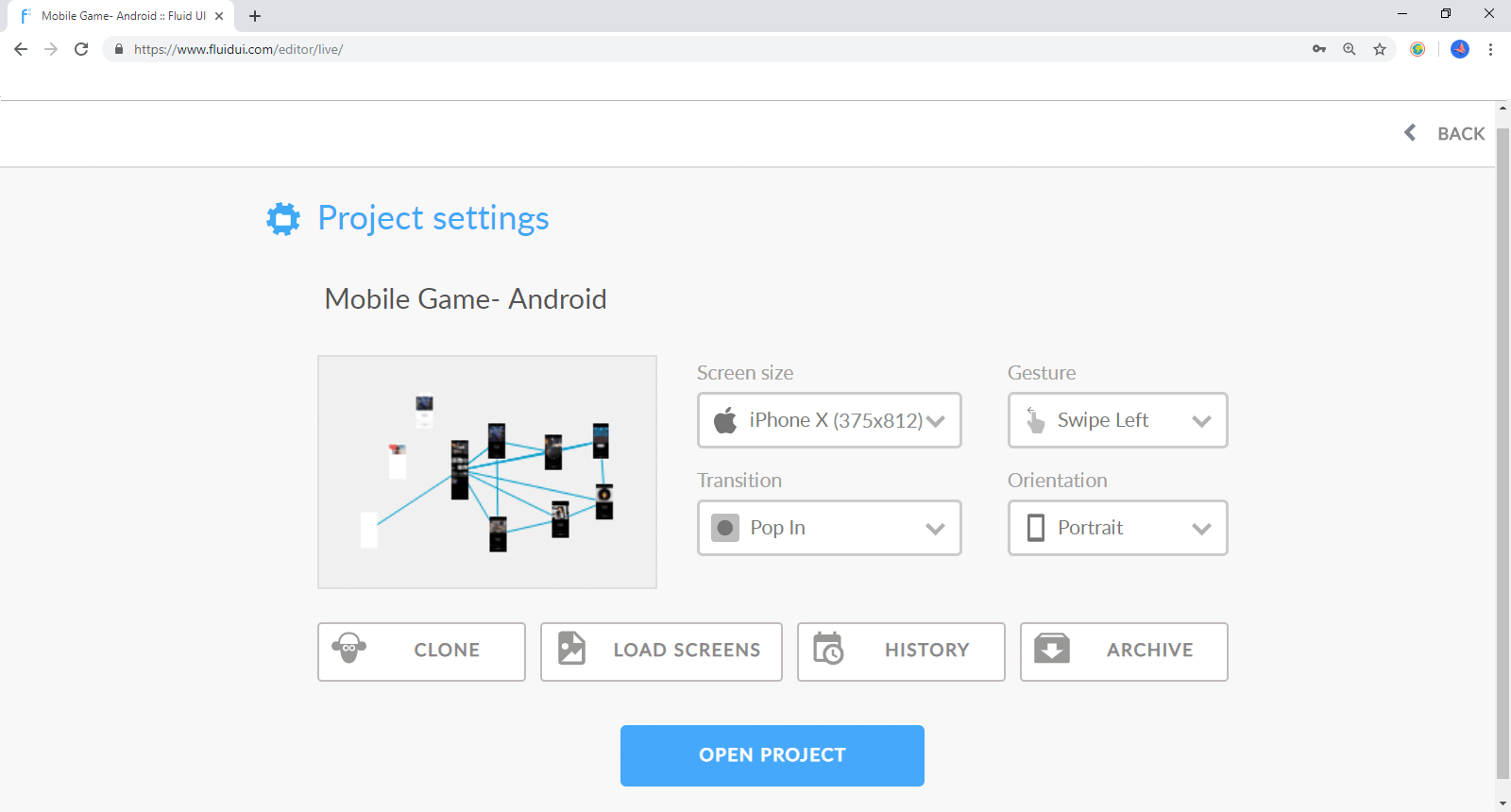 Use project settings to:
Clone or copy projects
Upload your own icon and splash screen
Access version history and restore previous versions
Archive the project
Change device resolution and device orientation
Change the transitions and gesture default settings
Change your project's device resolution
All of the common phone resolutions are listed, as well as several desktop/browser resolutions.
There is also a custom display size option. You can add in your own height and width here.
Selecting the correct resolution for the device you will be testing on will dramatically improve the quality and speed of the prototype.
You can also choose the orientation for the app you are designing.
Change your project's default gestures and transitions
Set the transition and gesture you want to have in your app. This will mean that each new link you create will automatically be set to the default transition and gesture you have chosen.
Some example gestures are tap, double tap and swipe.
Some examples of transitions are flip, slide, pop and fade.
You can also change the gestures and transitions for individual links.
Setting your splash screen and app icons in Fluid UI
You'll find the options for uploading your own splash screen and icon in the project settings menu.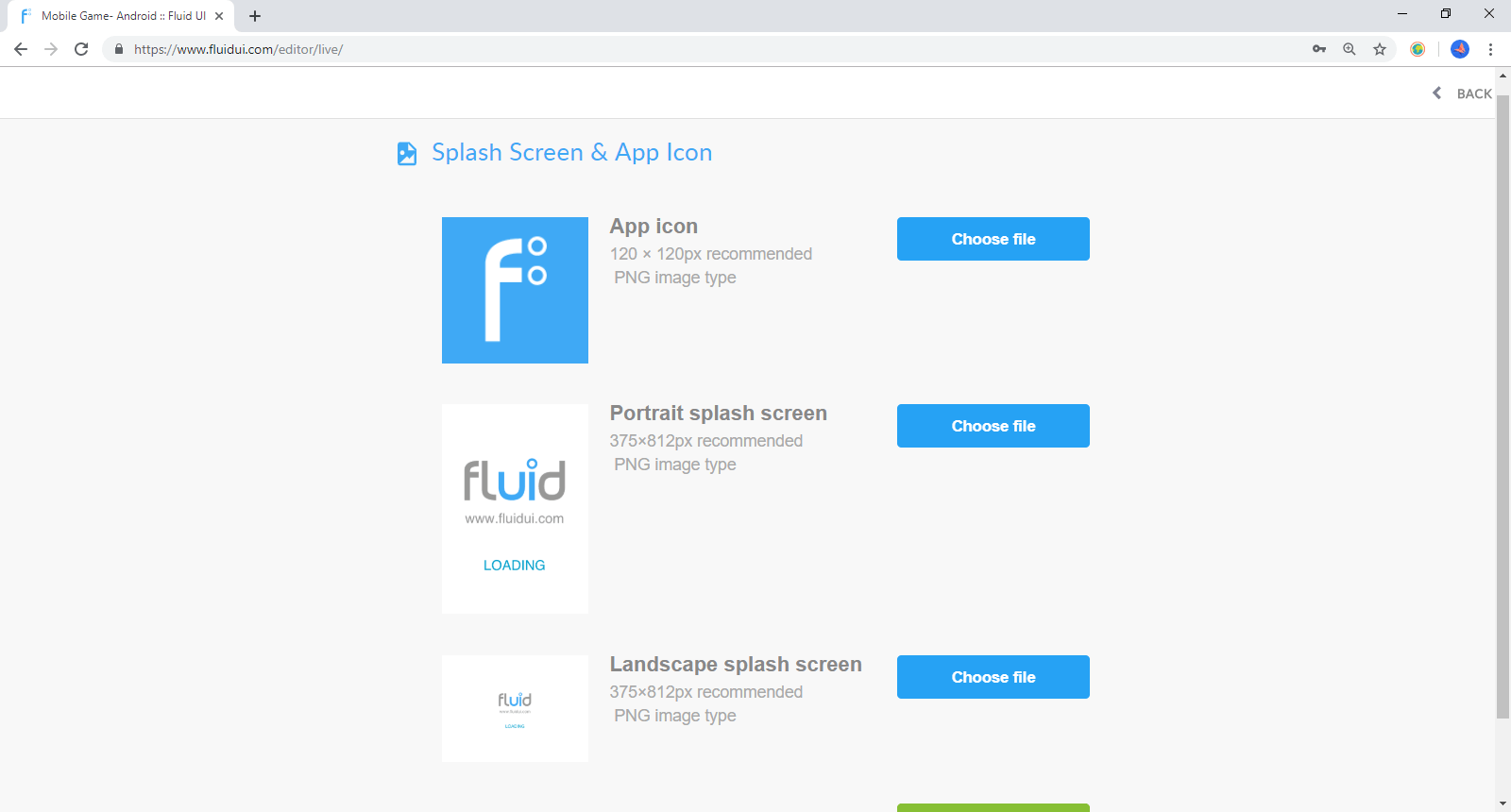 Projects List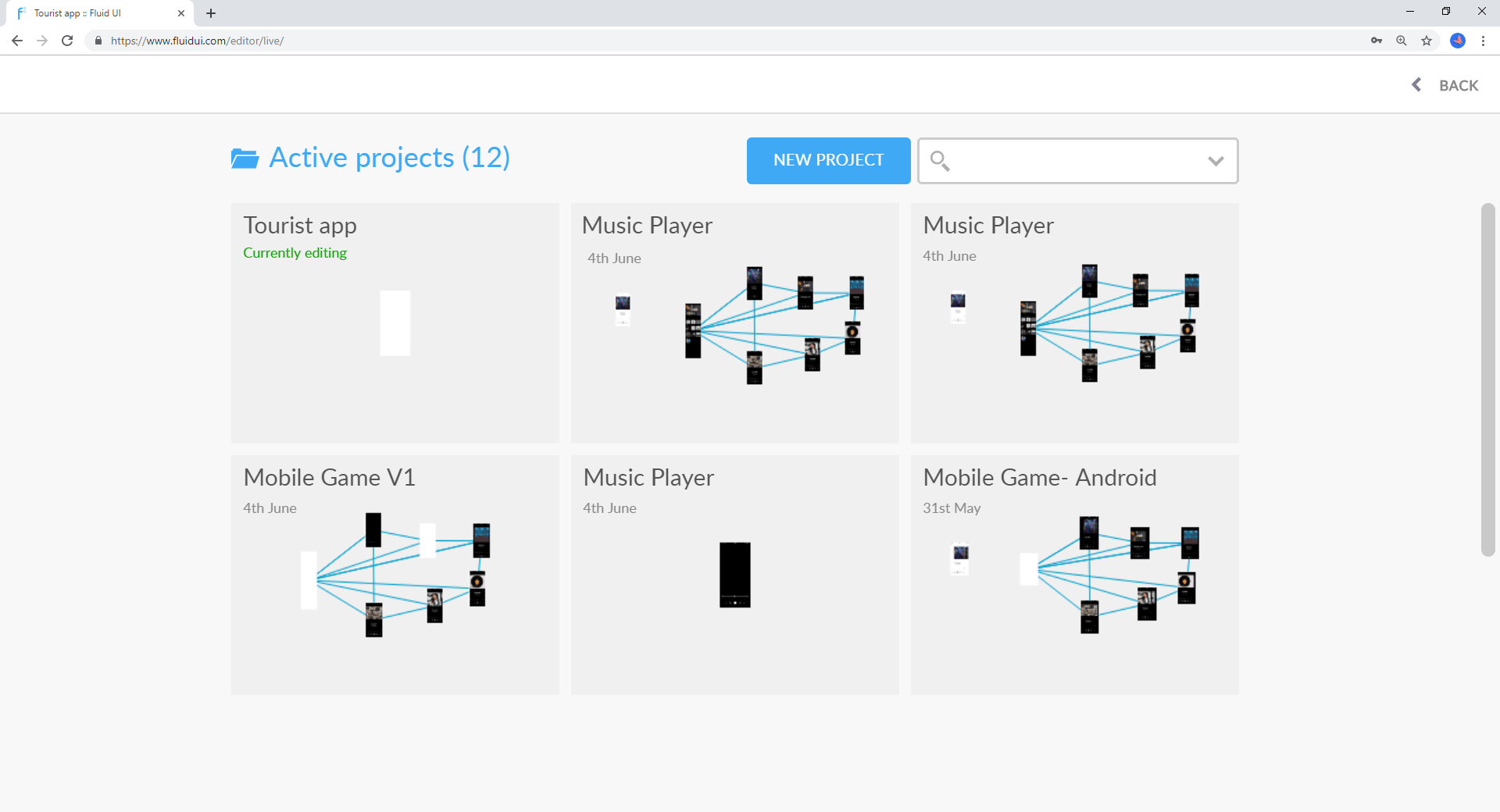 To access your project list, simply click into the home menu and then select 'My projects…'
View all of your projects via clear thumbnails.
See when your projects were last revised.
Each thumbnail will contain an overview of your project screenflow.
Search through your active, archived and shared projects and sort your projects by name, last update and creation date using the search bar filters.