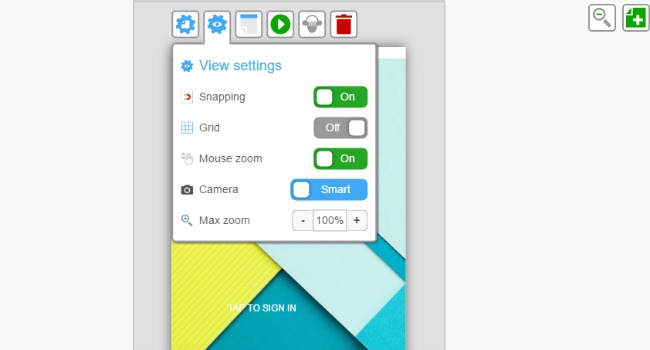 Turn snapping on or off: snapping is useful for automatically aligning widgets.
Turn the grid on or off: use the grid's slider to change the number of pixels in each square of the grid.
Turn the magic mouse zoom on or off: magic mouse zoom lets you use the mouse to zoom in on pages when in project mode (zoomed out to view all pages together). Place the pointer over a page and scroll the mouse to zoom in on that page.
Select your Fluid UI camera settings: set the camera controls to either smart or fixed.
Change the zoom level to suit the size of your monitor's screen. 100% will fit the page to your screen.
Next: Read about the Fluid UI camera controls and how to use them to speed up your workflow.